Bristol Tesco protest film screening stopped by police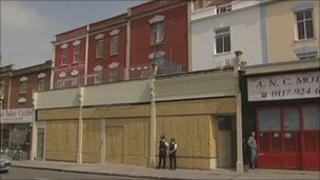 A community group that wanted to put on an outdoor screening showing footage of a disturbance in Bristol last week was prevented from doing so by police.
The group wanted to show a film of the protest that led to a Tesco Express store being damaged but police said it was an unlicensed event.
Police stopped the event in St Werburghs at about 1830 BST because of concern about "potential disorder".
It was then moved from Mina Park to a private house nearby.
Ch Insp John Holt, from Avon and Somerset Police, said: "This was not about censorship.
"We believed there was a very real risk to the local community if the screening were to go ahead in a public park.
"We would always encourage people wishing to organise outdoor events to engage with us so that they can go ahead safely, peacefully and without disruption to local residents."
'Didn't feel safe'
An Avon and Somerset Police spokesman added: "The group was dispersed under legislation available to the police to maintain public safety and reduce the risk of potential disorder.
"Bristol City Council, the owners of the land, also supported this decision."
Louise Paget, who lives nearby, and saw the event advertised on social media, flyers and posters, said: "It was shocking how many police there were and how fast it happened.
"It had been a lovely evening. Everyone was relaxed and happy. As soon as the police arrived we left.
"They are often a catalyst for trouble - I just didn't feel safe."
Ms Paget said the event had been organised by the local community to discuss how the protest on Thursday night at the Tesco store affected local people.
Other items on the agenda included local council spending cuts and a digital media art presentation.