Charity cycle event for Jo Yeates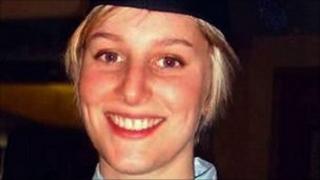 A charity cycle challenge is to take place in memory of Bristol landscape architect Jo Yeates.
Miss Yeates went missing on 17 December last year. Her body was found on Christmas Day.
More than 180 cyclists are to take part in the event, called Cycle for Jo, organised by the 25-year-old's former employer, BDP.
The challenge is aimed at raising money for the Missing People charity, the Red Cross and the RSPCA.
Peter Drummond, chief executive of BDP, said: "We chose Missing People because they were a great support to Jo's family and we hope that we can raise tens of thousands of pounds for this important charity, as well as two of Jo's favourite charities, in her name."
The cyclists will ride around the UK, as well as in the Irish Republic and the Netherlands.
The first riders will set off from Clerkenwell, central London, on 6 May. The last team will arrive in London on 25 May.
Miss Yeates, who was originally from Ampfield in Hampshire, was reported missing by her boyfriend Greg Reardon on 19 December, when he returned to their home after a weekend visiting family in Sheffield.
Her body was found in Longwood Lane, Failand, near Bristol.
Miss Yeates's neighbour, Vincent Tabak, 33, has been charged with her murder and is due to appear in court in May.