Bath artist uses Twitter inspiration for new project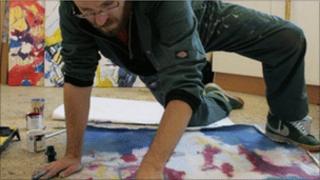 An artist in Bath is using the power of Twitter to help create a giant painted canvas.
Al Greenall is asking fans of the social network site to help shape the project by telling him their thoughts of Bath.
He is about to emigrate to Norway and sees the artwork as his parting gift to the area.
The finished piece of art will be auctioned off at the end of the week, with some proceeds donated to charity.
Mr Greenall said: "I asked people to send their thoughts, ideas and memories about Bath.
"One of the initial tweets received was 'festival city' and I just thought that sense of vibrancy, that sense of colour and celebration really kind of hit home.
"When I walked through Milsom Street I was starting to pick out different things, to look in slightly different ways, because people were encouraging me."
Incredible atmosphere
Mr Greenall - who is most famous for working on the King Bladud's Pigs project of 2008 - moved to Bath with his wife five years ago.
He added: "We've just been struck by the incredible conducive atmosphere of the city. It really supports all different people doing all different things but at the end, it manages to retain a really lovely integrity to the city itself.
"I've been inspired by it. I know a lot of other people [have too]."
Mr Greenall's giant piece of art, plus 45 other pieces of his work, will be on show this week at The Octagon at Milsom Place, Bath.
Members of the public can take a look at his work and share their thoughts and opinions on what they see.