Murderer hanged in Bristol in 1821 buried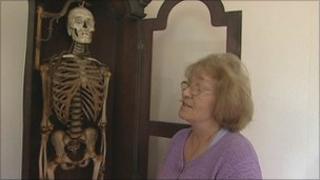 Descendants of a man who was hanged for murder in Bristol 190 years ago have gathered for his burial.
John Horwood was sentenced to death in 1821, but because his body was used for dissection classes at the Bristol Royal Infirmary he was never buried.
His skeleton has remained in a cupboard at the University of Bristol.
Mary Halliwell, from Leigh in Greater Manchester, was researching her family tree when she discovered she was related to Horwood.
'Disregardable and disposable'
He was the brother of Mrs Halliwell's great-great-great grandfather and lived in the village of Hanham near Bristol.
She discovered Horwood's skeleton was in a cupboard at the university, covered in cobwebs, with a rope around its neck.
"We did some more research and found a surgeon at the Bristol Royal Infirmary, Dr Richard Smith, had skinned the body, preserved and tanned it, before using it to bind all the papers referring to the case," Mrs Halliwell said.
The book, known as the Horwood Papers, is currently held by the Bristol Record Office.
Mrs Halliwell said she was saddened that while the "book of skin" was treasured by the city his remains were "disregarded and disposable".
She contacted Hanham-based funeral director EC Alderwick which said it would help organise a proper burial for his remains.
Horwood was sentenced to death for the murder of Eliza Balsom, who also lived in the village.
Funeral director Austin Williams said Horwood's remains would be buried as part of a Christian service in a family grave alongside his father Thomas Horwood.
The funeral service took place at Christ Church, Hanham, near Bristol, at 1230 BST.
Mr Williams said the burial would take place at 1330 BST, exactly 190 years to the hour when Horwood was hanged.