Bristol riots depicted in anonymous artist's mural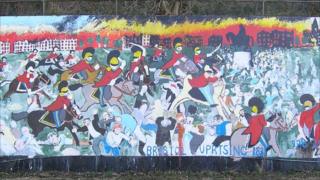 A huge mural depicting Bristol's riots of 1831 is being created in the city by an anonymous artist.
The colourful artwork, on what was a blank wall on Bath Road, is about 20ft (6m) by 80ft (24m) and is now nearing completion.
The 1831 Queen Square riot took place after the House of Lords rejected the second Reform Bill, aimed at getting rid of run-down and filthy city areas.
Some 500 to 600 young men took part in the three-day long uprising.
The artist, who wants to remain anonymous, told the BBC in an e-mail statement: "Out of a population in Bristol of some 104,000 at that time, only about 6,000 were eligible to vote.
"Most of these were part of the establishment of property and business owners.
"Political corruption was endemic throughout Britain, with many MPs representing 'rotten boroughs' that had little or no electorate to speak of."
He said the Bristol riot was a "sad reflection" that "no matter where it may be in the world, we seldom seem able to overcome oppression without innocent blood being spilled on a massive scale".