Government office plan for Bristol Free School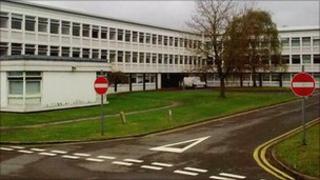 A proposed free school could open in Bristol at a government building in Brentry, a letter seen by the BBC says.
Attempts have been made to open an all-through school for primary and secondary children at St Ursula's School in Westbury-on-Trym.
A previous private school at the site went into administration in 2010 and Bristol City Council spent £1.95m buying the site.
The council now wants a secondary free school to open in nearby Burghill Road.
The Bristol Free School trust said not using St Ursula's, which is currently being used by a primary academy on a one-year deal, "defied belief".
But a bid by Oasis Education to continue running the primary academy was rejected by the Department for Education.
The council is now working towards a two-form-entry primary to replace Westbury Oasis and a separate free school secondary at Burghill Road in Brentry.
The building was previously used by the Environment Agency and Defra.
It is possible the secondary school could move to St Ursula's at a future date if planning permission is granted.
But a statement from Bristol Free School said not opening an all-through school in Westbury-on-Trym was a bad decision.
"Bristol City Council's decision to turn down the opportunity to develop the former St Ursula's as a new primary and secondary school - fully funded by central government - defies belief.
"We deeply regret that the Oasis Westbury children have yet again been let down, that the funding for a new primary school will be lost to Bristol, and the fact that our community has been denied a new comprehensive school on its preferred site.
But the trust added it was working on using the Berghill Road site and would be "keeping parents informed about progress over the next few days."