NHS Bristol worried over speed camera cuts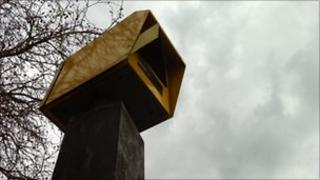 The head of the NHS in Bristol has written to Avon and Somerset Police asking them to switch the city's speed cameras back on.
Fixed cameras in Bristol have been turned off because cuts in council budgets led to the area's road safety partnership collapsing.
Deborah Evans said she was concerned about the impact losing the cameras would have on road casualty figures.
A police spokesman said the cameras were the responsibility of councils.
Avon and Somerset Police will now rely on a team of mobile camera vans.
"We know that speed cameras help to save lives and right across the country over the last 10 years deaths on the roads have dropped," Ms Evans said.
Good deterrent
"So this is a very effective public safety message and we simply want to have a conversation with the police.
"We want to talk with them over whether there are other options."
Ms Evans said a driver education programme for motorists caught driving marginally over the limit was also a good deterrent.
That programme has been temporarily closed while the police tender for another provider.
"Those evaluate very well with drivers and help to remind all of us about the importance of controlling our speed."
A spokesman for Avon and Somerset Police said the fixed speed cameras were the responsibility of local councils and that Ms Evans should discuss her concerns with them.
He added that if the authorities were willing to fund the cameras the police would process the fines.