Cadbury plant in Keynsham put up for sale by Kraft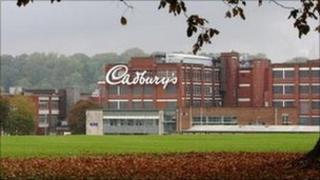 The Cadbury plant at Keynsham near Bristol has been put up for sale by its US owners Kraft.
The final bar of chocolate rolled off the production line at the Somerdale factory in January.
Cadbury was taken over by American firm Kraft in February 2010, which had pledged to keep the plant open.
When the takeover was completed the firm controversially announced that it would close it and carry out a previous plan to switch production to Poland.
The change of heart over the Somerdale plant was subsequently criticised by the Takeover Panel.
Cadbury spokesman Tony Bilsborough said the firm was working with Bath and North East Somerset Council to "come up with a blueprint for housing and employment".
'Totally committed'
"We are marketing it as widely as possible to ensure the future not just of the land but of Keynsham," he said.
Mr Bilsborough added that they were committed to maintain the sports and social Fry club, which is part of the Somerdale site.
"It depends on the land itself - so either keeping it in its current building or building something better - but we are totally committed to retaining it."
A skeleton staff of about 50 people which has remained on site to handle maintenance was due to leave at the end of March.
Double Deckers were the last chocolate in production at the site.
23 March: This report has been updated following observations from a reader close to the issue.