Steam seen coming out of Oldbury power station reactor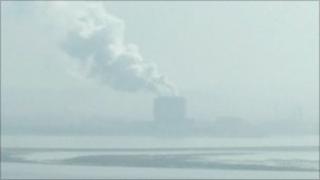 The Nuclear Decommissioning Authority has said there are no safety concerns at Oldbury power station after steam was seen coming from a nuclear reactor.
Bosses said it was caused by a computerised switch-off during routine maintenance on Thursday.
Phil Sprague, site director at the power station, said a small electrical component had overheated.
But Reg Illingworth, who lives nearby, said he was not satisfied with the safety measures at the plant.
'Component overheated'
Mr Sprague, site director at the South Gloucestershire power station, explained: "We were carrying out some work in preparation to do some routine maintenance. This involved switching a part of the turbine from automatic to manual control.
"The mechanism which does this correctly took the turbine off automatic but failed to put it on manual because a small electrical component overheated.
"The inbuilt safety measures shut down the turbine exactly as it's supposed to do in this sort of the event.
"Because the turbine tripped, the steam produced in the boilers couldn't be sent to the turbine any more and was released through safety release valves.
"Local residents will have heard and seen the steam being released."
But Mr Illingworth, who lives within a mile of the power station, said he was not satisfied with the safety measures at the plant, especially in light of events in Japan.
"Oldbury is the oldest plant in the UK. It was designed in the 1950s. It doesn't have the same level of containment as Fukushima and the graphite cores are wearing away," he said.
"Sad to say for the people who work there but the risks involved are too great.
"It's also on a flood zone. We saw what happened with the tsunami."