Bristol's Severn Beach rail line subsidy is halved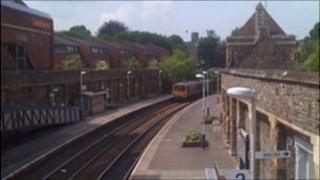 A council subsidy for a rail line in Bristol is to be halved after an increase in passenger numbers.
Since 2008, Bristol City Council has spent £400,000 a year so the Severn Beach line can be served by half-hourly services during peak time.
The council said journeys had increased by 80% in the past three years and did not need a large subsidy any more.
First Great Western said the cut was not "negative" and no services would be axed because of the lower subsidy.
A statement from the council said the new agreement, costing £200,000 a year until 2013, "confirms the continuation of the enhanced service".
Councillor Gary Hopkins said the authority had got a good deal with the train firm that saved money.
'Growing popularity'
"I am delighted that we have managed to secure this service for the foreseeable future. We are confident that the route will remain sustainable," he said.
"The Severn Beach Line success story is a shining example which should inform the way we continue to do business in the future."
First Great Western said a reduction in the subsidy "should not be seen as a negative" and was a reflection of the "growing popularity of the line".
A company spokesman confirmed they were committed to maintaining the same level of services on the line.
A spokesman for the Friends of Suburban Railways welcomed the news but added: "We would like to know from the council how they plan to take forward further improvements."
He said: "We are pleased, obviously, that the service is continuing and it appears that there's going to be a later service on a Sunday on the branch line as a whole, but we were hoping there would be improvements to the evening service as well."