MoD to move 1,400 workers from Bath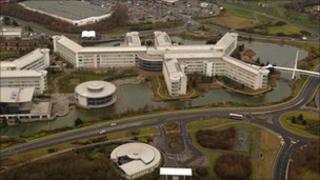 The Ministry of Defence is to close its three establishments in Bath, with all 1,400 staff being transferred to Abbey Wood in Bristol.
The MoD says the decision to shut its Ensleigh, Foxhill and Warminster Road sites in the city will save it £39.5m over the next 15 years.
The staff will join a further 1,200 ministry workers from Bath whose move has already been announced.
It has not yet been decided what to do with the three vacant sites.
Bath's Liberal Democrat MP Don Foster said he was "disappointed" that the 26-acre Ensleigh site was being closed alongside the smaller Foxhill and Warminster Road units.
He told the BBC that he was working to ensure the area could be used for affordable housing.
Job cuts
The huge Abbey Wood complex in Filton is the largest military facility in the UK with office space for more than 10,000 workers.
The Bath move was made possible due to free space created after job cuts announced in the ministry's procurement agency, which is based in Bristol.
Staff involved in the transfer work for the MoD's People department, the Pay and Pensions Agency, Military Aviation Authority, Defence Analytical Services Agency, Defence Internal Audit and the Defence Academy and Financial Management Group.
Consultations with trade unions representing the Bath workers have begun over the plan, which would be complete by April 2013.
A ministry spokesman said: "We recognise that this will have a major impact on people and shall provide full support to them at this challenging time.
"This will include a comprehensive communications package on matters that we know are of concern to staff such as transport and allowances."
Bath and North East Somerset Council has already drawn up contingency plans for new housing at the Foxhill and Warminster Road sites.