'Fake police' conman targeting gay community hunted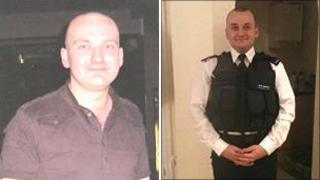 A suspected fraudster who is said to pose as a policeman while targeting gay men is being sought by police.
Gloucestershire Police were called to a house in Bishops Cleeve near Cheltenham after a theft was reported last month.
The 43-year-old victim said a man who had been lodging with him for a more than a week had made off with about £600 in cash and credit cards.
Police said he had been identified as Matthew Attenborough, 30, who is wanted in at least nine other force areas.
The victim said he had met the man - who called himself Saul White - online.
The suspect claimed to be a police officer from Avon and Somerset who was transferring to Gloucestershire and needed a place to stay while he sorted out accommodation.
Pc Melanie Earnshaw said: "This man is finding his victims on the internet. Once he has got what he wants he will then move on to his next victim, it seems, in a completely different area of the country.
"It is imperative that we find him before he targets someone else.
"It is also possible that there are people out there who have also been targeted by this man but haven't reported it to police."
Police have released photographs of Attenborough, who is also wanted by forces in Bristol, Birmingham, Newcastle, Liverpool, London, Doncaster, Reading, Coventry and Cardiff.