Harry Dolman's Flying Flea housed in Bristol's M-Shed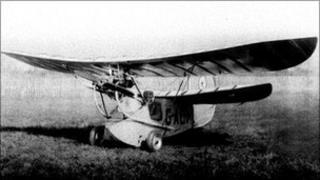 A rare kit plane made by a Bristol entrepreneur in 1935 is to go on display at the city's new M-Shed museum.
In the 1930s, the last biplane to be built in Bristol had rolled off the production line, making way for aircraft such as the Bristol Blenheim, a type of light bomber.
But while giant leaps were being made in aeronautics, Harry Dolman was indulging his love of flight in a more basic way.
The managing director of the Bristol engineering firm Brecknell, Dolman & Rogers whiled away many hours piecing together a Flying Flea build-it-yourself aeroplane at his home in the city.
Consisting mainly of wood, fabric and a small engine, the flea was invented by French furniture designer Henri Mignet.
Believing Mignet's claim that anyone who could build a packing case and drive a car could make and fly his Pou-du-Ciel (louse of the sky), hundreds of people in Britain invested in the kits.
Mr Dolman installed a Bristol-made Douglas 750cc motorcycle engine in his Flying Flea and he took the plane in its maiden flight from Whitchurch Airport, now Hengrove Park, in 1935.
It was not a great success, with the flea briefly leaving the ground then flipping over and landing upside down.
Mr Dolman's widow Marina remembers the reaction of the airport's manager after the crash.
"I recall the airport manager at Whitchurch Airport suggesting, much to Harry's amusement, that he should remove the plane before he killed himself."
Aircraft banned
Afterwards, Wiltshire-born Mr Dolman flew his kit plane from Hullavington in the county.
Mr Dolman was not the only flea pilot to have problems and, after several accidents involving the aircraft, flying them in the UK was banned by the Air Ministry in 1936.
The enthusiast donated his to the Science Museum in London which, in turn, has passed it on to Bristol's new M-Shed museum.
Mrs Dolman is delighted her husband's creation is coming home to the city.
"The Flying Flea is a fond reminder of times gone by.
"Bristol has an incredibly strong aeronautical past and I'm so thrilled that this tiny aeroplane remains part of this city's wonderful history."
Mr Dolman's flea will form the centrepiece of M-Shed's Places gallery when it opens on 17 June.