Bristol's Venue magazine saved from closure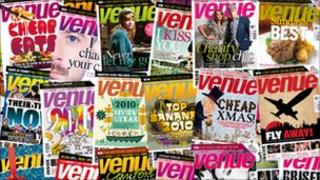 A decision to close Bristol entertainment and listings magazine Venue has been overturned.
Editor Joe Spurgeon said the magazine had been saved thanks to advertisers' money, campaigns, fundraising and people committing to a subscription.
But he said the publication would change, becoming a free, much larger, monthly title.
Mr Spurgeon said there would still be some job losses, but they would not know how many until next week.
The magazine announced 10 days ago that that it was being shut down because of falling advertising revenue.
'Twin titles'
Mr Spurgeon said: "There has to be a compromise. The magazine can not carry on as it was. So, after issue 967, Venue magazine will become a much larger monthly title.
"It will use and expand upon the distribution channels of one of our other titles, Folio magazine.
"Both magazines will combine and will be printed together as twin titles, each retaining their own identity."
He added: "On a personal note, it's been a tough few days, but to everyone who has voiced concerns, written, acted, yelled at me in town, beeped their car horns and offered help, money and back-pats, a huge, from-the-bottom-of-my-heart, thank you."
Venue was founded in 1982 and was an independent publication until it was bought in 2000 by Northcliffe Media, which owns the Bristol Evening Post newspaper.
After the closure of the magazine was announced on 22 February, group editor of Venue Publishing, Dave Higgitt, said it had experienced a steady decline in its circulation and advertising revenue over the past four years and that losses were "unsustainable".