Car claims drop after £3m road investment in Bath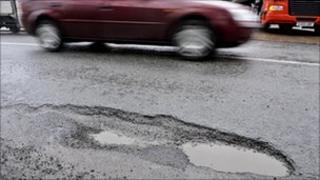 Investing £3m over three years on highway maintenance has led to a drop in compensation claims over car damage, a council has said.
Bath and North East Somerset Council paid out £11,678 in claims in 2008/09, £48,408 in 2009/10, and £4,000 to date in 2010/11, BBC research shows.
The authority said the cold snap in 2009 led to its road network becoming damaged and having potholes.
Highways manager Kelvin Packer said it had previously "underspent" on roads.
He said: "We had a cold winter [in 2009] with heavy snowfall followed by wet and freezing weather. When you get those conditions, you get potholes.
"What we saw was massive rise in number of claims which explains the big payments," he said.
'Poor state'
Mr Packer said that the Conservative-run council spent £500,000 immediately after the cold snap in 2009, and then spent another £500,000 in the following financial year.
"We repaired a lot of road problems that would have become potholes. It has driven down number of claims considerably," he said.
He added that they then spent an extra £2m on "preventative" work.
In 2011/12 the council plans on making a £5m investment in its road network, including a number of "essential improvements to a number of highway structures".
John Bull, a Labour councillor in the village of Paulton, said many roads in his area were still in a poor state.
"I think the obvious comment is that if that work had been done in a dvance that money would not have been necessary," he said.
"Looking around several roads in Paulton they are in a very poor state including the back road between here and Bath."
He added a traffic calming scheme in Radford had to be relaid several times in the past few years following cold weather snaps.
"Although potholes are annoying in the present situation [and] there are higher priorities, but here in Paulton we feel like we've been short-changed."
Mr Packer said the council had also invested in new technology, called "cold lane" material, to help fix potholes and other problems with road surfaces quicker.
He said: "It works very much like Polyfilla. It has been tested and used on motorways and...it might sound like cowboy repair but the material is very expensive.
"In emergency situations we don't need to wait for material to come from a quarry - we can go and fill potholes quickly."