Extradition case date set for honeymoon murder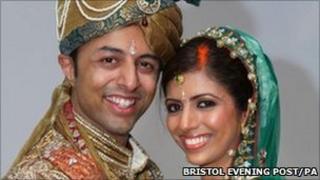 The extradition hearing of Shrien Dewani, accused of hiring a hit man to kill his new bride, has been listed for 3 May.
Woolwich Crown Court heard Mr Dewani, 31, from Bristol, was unfit to attend a hearing on Tuesday.
His wife Anni, 28, was found shot dead in Cape Town in November after being kidnapped while on honeymoon.
South African authorities are seeking to have him stand trial there for the alleged contract murder.
A further preliminary hearing is due to take place on 23 March and the full extradition hearing is expected to last three days.
The court heard lawyers for Mr Dewani will question whether he would receive a fair trial if extradited to South Africa.
Ben Watson, representing the South African authorities, said they had been notified of the issues the defence intended to raise.
'Hijacking was staged'
Mr Dewani did not attend the hearing as he is suffering from severe post-traumatic stress disorder and clinical depression.
The businessman, who denies any involvement in the killing, will be required to attend the next hearing.
But his lawyer, Julian Knowles, indicated it was uncertain whether his client would recover in time for the extradition proceedings.
He also told the court Mr Dewani's ill health had made it difficult for him to take instruction from him.
The couple's taxi was hijacked on 13 November in Cape Town as the pair were travelling through the Gugulethu township.
Mrs Dewani's body was later found in the abandoned car. Mr Dewani had been released unharmed.
One of the men accused of murdering Mrs Dewani, Mziwamadoda Qwabe, has claimed in a statement released by police that the hijacking which led to her death was staged.
In his statement, he said he had agreed to take part in a staged hijacking and robbery.
'Money promised'
Investigating officer Captain Paul Hendrikse said that Mr Qwabe and co-accused Xolile Mngeni hijacked the taxi containing Mrs Dewani and her husband on 13 November.
Taxi driver Zola Tongo was apparently allowed to go after telling them the money they had been promised was behind the front passenger seat.
Tongo has already been jailed for 18 years after admitting his role in the murder and making a confession that implicated Mr Dewani.
Mr Qwabe and Mr Mngeni, 23, are charged with murder, kidnapping and robbery with aggravating circumstances.
They are due to appear before Wynberg Regional Court on 25 February.
A full trial at Western Cape High Court is due to begin at a later date.