New dementia centre to open in South Gloucestershire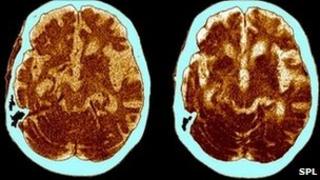 Dementia sufferers in South Gloucestershire will benefit from the opening of a new, purpose-built day centre in Yate.
The site, located on the Cambrian Green Court extra care housing development, replaces the old Woodleaze facility on Station Road.
The larger unit has more facilities and can provide an extra 10 places a day.
South Gloucestershire Council hopes the new facility will enable people to stay as independent as possible.
Users and carers from the old Woodleaze unit gave their views during the design of the new centre, as did voluntary organisations who work with people with dementia.
Derek Dominey from Staple Hill, who is a carer of a partner with dementia, welcomes the new development.
"[It] will enable people with dementia to be cared for safely while the carer has a welcome break and the opportunity to follow their own interests," he said.
Dementia is a serious deterioration in mental functions, such as memory, language, orientation and judgement.
There are many types, but Alzheimer's disease, which accounts for two thirds of cases, is the most well-known.