UWE staff in Bristol to strike over restructuring plans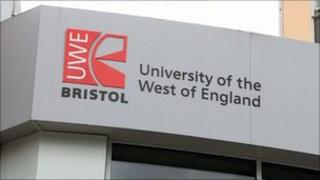 Academics at the University of the West of England (UWE) in Bristol have announced they will strike over plans to restructure.
Industrial action by members of the University and College Union (UCU) will take place on Thursday 10 February.
The union said proposals to cut senior posts by 25% have been rushed through and would mean academics will have to apply for their own jobs.
The university said it had been able to avoid compulsory redundancies.
In a ballot of members 66% voted for strike action.
UCU regional official Nova Gresham said: "Management is looking to rush proposals that will affect the jobs of hundreds of staff here at UWE.
'Supportive and sensitive'
"Had they been prepared to pause their plans and allow time for both sides to sit down together and make sure the process was fair and transparent a deal may well have been reached by now.
"Unless the university gets its act together the branch will take local strike action for the first time in its history."
John Rushforth, deputy vice-chancellor of UWE, said: "It is understandable that there are concerns about jobs throughout the sector in the current climate.
"We are determined to invest in teaching and research where we can. The university is investing in 40 new academic teaching posts and has created new professorial posts.
"We have been able to protect front line teaching staff and put more investment into consistent contact hours to students.
"By acting early, to date, we have been able to avoid compulsory redundancies and been able to be supportive and sensitive to those involved in the changes."