Avon and Somerset safety camera team to be disbanded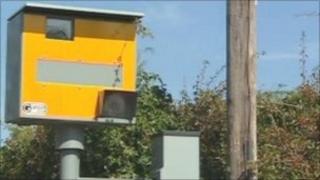 The Avon and Somerset Safety Camera Partnership's management team is to be disbanded to save money.
Three posts in Taunton will be closed and jobs in the Bristol unit which processes fines will be reduced.
The changes are due to cuts in government funding and will see Avon and Somerset Police take over running the mobile speed cameras.
Laurie Lewis, the chair of the partnership, said mobile units would be used in some areas.
An independent report by Deloitte, obtained by the BBC, said posts in the Bristol unit would be cut from 44 to 30.
"If it's a smaller operation it would be naive to suggest that people are all going to keep their jobs," said Mr Lewis.
"In Avon and Somerset we're looking at a reduction in numbers and how, where possible, we can redeploy staff."
'Deeply disappointed'
He said that a previous funding decision by Somerset County Council would mean the county would only be covered by mobile units.
"In relation to Somerset, they've already made the decision to withdraw from fixed cameras," Mr Lewis said.
"In terms of the West of England [the former county of Avon], they have yet to formally make up their minds which way they want to go."
The running costs for cameras in Somerset are about £60,000 a year but many cameras need upgrading at a cost of £405,000.
Mr Lewis added that relying more on mobile cameras would be "more intelligent".
A spokesman for Somerset County Council said it had been working with the Safety Camera Partnership on a new funding model that would have allowed speed cameras to continue to operate.
"Avon and Somerset Police withdrew from this option and instead asked the council to take on responsibility for maintenance of the fixed cameras which we declined due to the future cost implications," he said.
"We are deeply disappointed at the police decision. It remains our view that a self-funding operation is a workable alternative to switching off fixed cameras."