Herschel Museum of Astronomy in Bath gets new gallery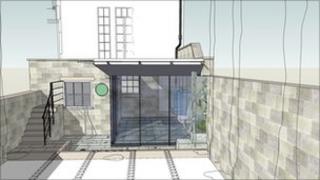 Work has begun on a new gallery space at the Bath museum from where astronomer William Herschel discovered Uranus in 1781.
The Herschel Museum of Astronomy, in New King Street, will use the new gallery space to house temporary exhibitions.
The area will be called the Caroline Lucretia Gallery in honour of William's sister Caroline, herself an astronomer.
The project is expected to be completed in spring.
Hetreed Ross Architects, who designed the gallery, said: "It was important that the new gallery complemented Herschel's workshop and the 18th Century town garden."
The garden side of the new space is glazed from floor to ceiling and stone walls form two sides of the gallery.
New stainless steel roofing stretches over the gallery and the workshop linking the old and new structures.
Museum curator Debbie James said: "We wanted a gallery that would combine the very best in exciting modern design with a real sympathy for the existing historic building."