Bristol and Somerset water supply levels 'not a worry'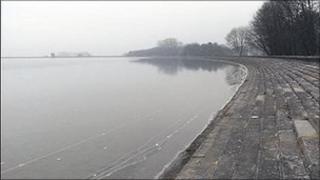 Water bosses have said they are not worried about lower than normal levels in Bristol and Somerset reservoirs.
Reservoirs in the area are 71% full on average, which is 27% lower than this time last year.
But supplies have now started to recover following an above average rainfall since the start of 2011.
"We don't normally see them this low, but water levels are now starting to go back up again," said Paul Kelson from Bristol Water.
Chew Lake is currently 66% full, Blagdon Lake and Cheddar Reservoir are both 75% full and the Barrow reservoirs are 77% full.
Annual rainfall for Bristol and Somerset in 2010 was recorded at 767mm - one of the lowest figures on record - with only 1921 and 1933 being drier in the past 100 years.