Councillor wants public decision on Culverhay School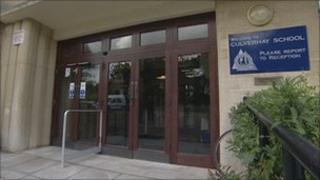 A Bath councillor has called for the final decision on the closure of Culverhay School to be made in public.
The boys' school is to close to further admissions to Year 7 from September 2012 as part of a reorganisation of education in the city.
The council voted to close Culverhay but the final decision will rest with Conservative councillor Chris Watt.
Liberal Democrat councillor Paul Crossley has called for that decision to be made in a public meeting.
The school, which is currently about half full, had considered introducing girls in a bid to remain open.
Rejected plans
Alternatives included a co-educational academy in partnership with Bath Spa University or reducing admission numbers at other schools in Bath to boost Culverhay.
But these were all rejected by the council's ruling Conservative administration during a cabinet meeting in December.
Mr Crossley said: "There is great anger in the community. Many feel the whole process from start to finish has been rigged against them.
"The Conservative cabinet must not hide behind closed doors. It must be prepared to make the final decision on closing Culverhay in public."
But in a written answer Mr Watt, who is the councillor responsible for education at the council, rejected the plan saying that due process over the closure had already taken place.
"There has already been much public scrutiny of this process and decision.
"Therefore in line with statutory process and existing practice it is not anticipated that the final decision will be taken in a public meeting."
The council said closing Culverhay would allow the authority to reinvest £1.75m in supporting other schools.