Bristol City Council proposes Downs bus lane land swap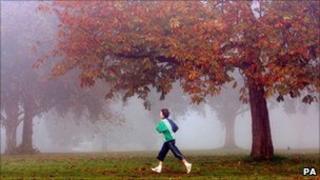 Part of the Downs open space in Bristol could be used to improve traffic flow and install a new bus lane.
Bristol City Council has proposed changes to the gyratory at the top of Blackboy Hill on Whiteladies Road.
The route is one of 10 priority bus routes in the city. The authority proposes to swap the land for alternative council-owned space.
The Friends of the Downs said no consideration had been given to the quality of the land in the exchange.
The Downs was originally owned by the Society of Merchant Venturers, but was given to the public and protected by an Act of Parliament in 1861.
The changes, which could see land next to White Tree roundabout used to widen the road as well as construct a bus shelter, will mean using 260 sq m of common land.
The council will then create a green space from an unnamed road which runs behind the Downs water tower.
Several other areas will be reseeded as part of the exchange.
Francis Greenacre, from the Merchant Venturers, said the swap was "desirable" for the Downs.
"When you walk onto the Downs you have then got a complete stretch of green in front of you and it's not divided," he said.
The plan is due to be discussed by the council's Downs committee on Monday.