New £10m leisure centre is planned for Bath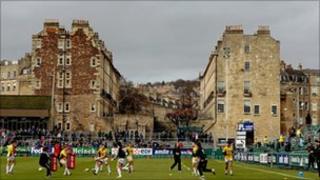 A new £10m leisure centre could be built in Bath under plans unveiled by the local council.
The current leisure centre could be closed as part of plans to redevelop the adjacent Bath Rugby ground.
Bath and North East Somerset Council said they were in discussions with Bath Rugby and the Recreation Ground Trust over the future of the ground.
The council said it had "indicated its willingness to fund up to £10m" towards the provision of a new leisure centre.
A statement from the council said: "It is currently anticipated that the proposals for the resolution of matters relating to the Recreation Ground will require the provision of new leisure facilities.
"Appropriate provision in the capital programme is therefore being made for the proposed investment."