Group says Bristol harbour apartment block is 'too big'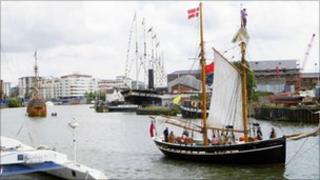 A group in Bristol has claimed the latest planned development on the city's harbourside is too big.
The Bristol Civic Society is objecting to a new block of 177 apartments which could be built on Millennium Promenade.
John Frenkle, from the society, said: "What we have is a very large building indeed and what we say is that it is going to overpower the whole area."
But Ian White, from Crest Nicholson, said the firm had already compromised on the height of the building.
He said the development would be 9.5m smaller than the original plans.
Mr Frenkle said he would argue to city councillors that the block was still too big for the area.
"This building started off as one building and has now been consolidated into one large building and we really do think that this needs rethinking into something more human scale."
A decision on the scheme could be made by councillors at a meeting on Wednesday.