Anni sister's plea to South Africa honeymoon husband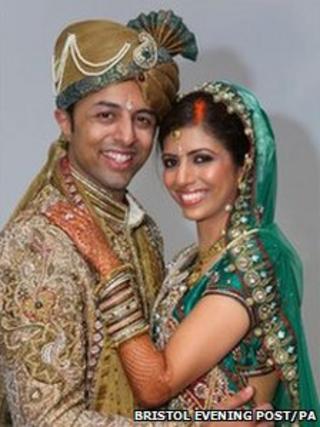 The sister of a woman who was murdered on her honeymoon in South Africa has urged her brother-in-law to return to South Africa and "clear his name".
Anni Dewani, 28, from Sweden, was shot and killed in Cape Town in November.
Her husband Shrien Dewani, from Bristol, has been accused of hiring a hit man to kill his wife. He denies all involvement in the killing.
Ami Denborg, Mrs Dewani's sister, pleaded with Mr Dewani to "tell us the truth of what happened".
Mr Dewani is facing an extradition hearing.
Acute stress
Speaking to Victoria Derbyshire on BBC Radio 5 live on Monday, Ms Denborg said: "If he [Shrien Dewani] hasn't done it, if he's innocent, then he should go back and identify the killers and tell us what happened in the court.
"Please tell us the truth of what happened and clear your name in court in South Africa.
"Tell us all this evidence that the South African police have, please explain to us what it is and what the truth is."
Last week, the City of Westminster Magistrates' Court in London was told a psychiatrist had diagnosed Mr Dewani with an acute stress disorder and a depressive adjustment disorder.
The court heard Mr Dewani, 31, from Westbury-on-Trym, is facing charges of conspiracy to murder, murder, kidnapping, robbery with aggravated circumstances and obstruction of the administration of justice.
Mrs Dewani was shot when the taxi she and her husband were travelling in was hijacked in the Gugulethu township on 13 November.
The South African authorities want Mr Dewani to stand trial in the country. Extradition proceedings were adjourned until 8 February.
Last week Hasmukh Shah, a family friend of Mr Dewani, told Inside Out West that Mr Dewani would consider returning under certain conditions.
Ms Denborg said there was a five year age difference between her and Mrs Dewani, and they were very close.
She said: "I spoke to her the day before she left for South Africa and the last thing she told me was 'I'm going now and I'll call you when I get back'.
"She was happy when she called me and that last call just echoes in my mind because I really, really miss her and wanted her to call me when she got back.
"She was a lovely person, she was very generous and she didn't care about money at all.
"She was always thinking of others, especially her family because she always put the family first.
"She was just so open, beautiful, both inside and outside. It's so sad to lose such a lovely sister."
In December, the taxi driver Zola Tongo, 31, from Bothasig, Cape Town, was sentenced to 18 years in jail for murder, kidnapping, robbery with aggravating circumstances and perverting the course of justice.
He told the Western Cape High Court he was offered 15,000 rand (£1,400) to kill Mrs Dewani.
Xolile Mnguni, 23, and Mziwamadoda Qwabe, 25, who are charged with murder, kidnapping and robbery with aggravating circumstances, are due to appear before Wynberg Regional Court on 25 February before a full trial at Western Cape High Court at a later date.