Jo Yeates murder suspect questioned for third day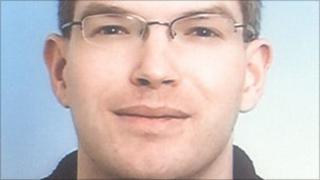 A man arrested on suspicion of murdering Jo Yeates is to be questioned by detectives for a third day.
Miss Yeates, 25, was found dead on Christmas Day, eight days after going missing from her home in the Clifton area of Bristol.
Police arrested a man, believed to be 32-year-old Dutchman Vincent Tabak, on Thursday.
A search has been taking place at his flat, which is next to Miss Yeates's home, since the arrest.
On Friday Avon and Somerset Police were given more time to question Mr Tabak, with a court granting a warrant of further detention, which meant he could be held until Saturday evening.
Police closed Canynge Road, where Miss Yeates lived, early on Thursday and put up scaffolding next to her flat.
CCTV footage
Forensic teams then began a search at the block, which was covered up with green sheets. Mr Tabak's flat is not the first in the block to have been searched by officers.
Police also sealed off part of Aberdeen Road in Cotham, about a mile from the flats.
The arrest on Thursday morning is believed to have taken place at a converted Victorian terraced house in the road.
Police were initially granted extra time to question the suspect on Friday morning and a further day was granted in the afternoon.
Miss Yeates's frozen body was found by dog walkers on 25 December next to a country road in Failand, three miles from where she lived.
A post-mortem examination revealed she had been strangled.
Miss Yeates, who was originally from Ampfield in Hampshire, was reported missing by her 27-year-old boyfriend Greg Reardon on 19 December when he returned to their home after a weekend away visiting family in Sheffield.
Earlier this week a reconstruction for the BBC's Crimewatch programme was filmed, tracing Miss Yeates's last steps.
The reconstruction focused on what happened to her after she left the offices of BDP, where she worked in Bristol city centre, on 17 December.
Miss Yeates is known to have gone to the Bristol Ram pub, Waitrose and a Bargain Booze shop.
She then bought a pizza from a Tesco Express store before returning home.
CCTV footage of her in all three shops has been released by police.
Parents' appeal
Miss Yeates's shoes, coat, mobile phone, purse and keys were found in her flat, which detectives said showed she had returned home.
The receipt from Tesco was also discovered in the flat but no trace has been found of the pizza or its packaging.
Tests have revealed she did not eat the pizza before she died.
Miss Yeates's parents, David and Teresa, made a new appeal for information on Monday in which they urged "armchair detectives" to help police by reporting anyone whose behaviour had been unusual in recent weeks or who had reacted strangely to the murder.
The appeal prompted more than 300 calls to the force.
Miss Yeates's landlord Chris Jefferies, 65, was previously held for three days for questioning on suspicion of murder before being released on bail.