First Bus fined for late buses in Bristol and Somerset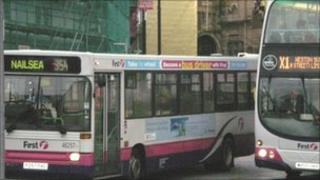 First Bus, the largest bus operator in Bristol and Somerset, has been fined £40,000 as a penalty for the late running of its buses.
The traffic commissioner handed out the fine after an inquiry found spot checks in Weston-super-Mare showed nearly 20% of services did not run on time.
A similar test in Bath found 8% were either early or late and some showed the wrong destinations.
First Bus said the ruling did not consider "unpredictable" conditions.
During the inquiry by the Department for Transport, First Bristol said the commissioner's target of having 95% of services on time was "simply not achievable" given Bristol's traffic.
But the commissioner commended the company for eradicating the culture of early running where drivers purposefully speed round their routes ahead of time.
In response to the fine, a statement by First Bus said it was disappointed and that improvements had been made.
In 2005 First Bristol was fined £100,000 and in 2007 it was fined £50,000.