South Africa honeymoon death man suffering from stress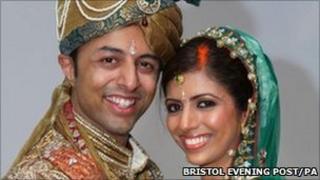 A man accused of ordering the murder of his wife on honeymoon in South Africa is suffering stress, a court has heard.
Shrien Dewani, from Bristol, faces extradition to South Africa after he was accused of hiring a hit man to kill his wife Anni in Cape Town.
Mr Dewani's solicitor told the City of Westminster Magistrates' Court in London that his client was suffering from an acute stress disorder.
Extradition proceedings were adjourned until 8 February.
Mr Dewani did not attend the hearing. The court heard a psychiatrist had diagnosed him with an acute stress disorder and a depressive adjustment disorder.
'Unfit to attend'
Ben Watson, for the South African authorities, told Thursday's hearing that Mr Dewani was excused by the judge as unfit to attend court, following a psychiatric report.
Chief Magistrate Howard Riddle said he would review whether Mr Dewani should attend the next hearing, when the extradition case will be formally opened.
The court heard Mr Dewani, 31, is facing charges of conspiracy to murder, murder, kidnapping, robbery with aggravated circumstances and obstruction of the administration of justice.
Mrs Dewani, 28, was shot when the taxi she and her husband were travelling in was hijacked in the Gugulethu township on 13 November.
The South African authorities want Mr Dewani to stand trial in the country.
Mr Dewani of Westbury-on-Trym, denies any involvement in the killing of his wife.
Mr Watson said that the South African authorities believe Mr Dewani conspired with others to make it "appear as if they had both been the victims of a random hijacking".
Julian Knowles, for Mr Dewani, told the hearing that there "may be difficulties" taking instructions from his client in light of his condition.
Mr Dewani's bail was extended.
Jailed for murder
The next hearing, which is expected to deal with procedural matters, is due to take place at Belmarsh Magistrates' Court.
Earlier this week, the BBC revealed that Mr Dewani was not ruling out a negotiated return to South Africa to stand trial.
In December, the taxi driver Zola Tongo, 31, from Bothasig, Cape Town, was sentenced to 18 years in jail for murder, kidnapping, robbery with aggravating circumstances and perverting the course of justice.
He told the Western Cape High Court he was offered 15,000 rand (£1,400) to kill Mrs Dewani.
Xolile Mnguni, 23, and Mziwamadoda Qwabe, 25, who are charged with murder, kidnapping and robbery with aggravating circumstances, are due to appear before Wynberg Regional Court on 25 February before a full trial at Western Cape High Court at a later date.