Portishead traders blame roadworks for drop in sales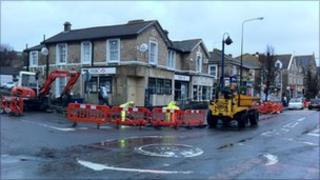 Traders say the daytime closure of the High Street in Portishead is having a dramatic impact on their sales.
North Somerset Council has closed the road to traffic for resurfacing work which will take five weeks.
Matt Westley, who runs a stationery shop, said the closure has made their "cashflow go to pot".
But North Somerset Council said the work had to be done to improve the "pedestrian environment" on the road and add extra car parking spaces.
Mr Westley said trade at his shop had shown a large drop since the roadworks began.
"When we looked at the figures earlier in the week they were down by a third - and that's a lot," he said.
Another said that on the first two days of the roadworks she had no customers at all.
Councillor Elfan ap Rees, who is in charge of highways for the council, said they had moved the work from December to January.
"The work has to be done and this was the best time of year to do it," he said.
"By closing the High Street we are much more able to get it done quickly that if we tried to do it in bits and pieces."