Honeymoon death husband's return 'not ruled out'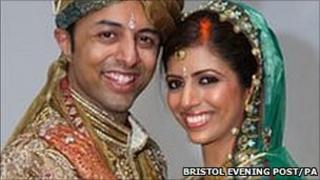 The husband of a woman murdered on honeymoon in South Africa is not ruling out a negotiated return to the country to stand trial, the BBC has learned.
Shrien Dewani, 31, from Bristol, has so far been resisting extradition.
Mr Dewani, of Westbury-on-Trym, is on bail after being arrested on suspicion of conspiring to murder his wife Anni, who was shot in Cape Town in November.
Family friend Hasmukh Shah told Inside Out West that Mr Dewani would consider returning under certain conditions.
They include being guaranteed bail up to the point of final appeal, if one is needed.
Extradition hearing
"It is for Shrien's legal team and the South African authorities to discuss this and agree a mutually-agreed programme," said Mr Shah, a trustee of the World Council of Hindus.
Mrs Dewani, 28, was shot when the taxi she and her husband were travelling in was hijacked in the Gugulethu township on 13 November.
Mr Dewani denies any involvement in the murder of his wife, who was from Sweden.
He is due to appear in court for a preliminary extradition hearing on Thursday, 20 January.
The driver of the taxi, Zola Tongo, 31, from Bothasig, was sentenced to 18 years in jail for murder, kidnapping, robbery with aggravating circumstances and perverting the course of justice.
Xolile Mnguni, 23, and Mziwamadoda Qwabe, 25, who are charged with murder, kidnapping and robbery with aggravating circumstances, will appear before Wynberg Regional Court on 25 February.
Meanwhile concerns raised by Mr Dewani's supporters about whether the businessman will be given a fair trial in South Africa have been rejected by the country's justice minister, Jeff Radebe.
He told the BBC: "As far as we are concerned, Mr Dewani, if he comes before a competent court in South Africa, will receive a fair trial."
The full story features on Inside Out West on BBC One in the west of England at 1930 GMT on Monday and on BBC1 HD across the rest of the UK.
The programme will also be available in the UK on the BBC's iPlayer for seven days.