Last chocolate bar made at Cadbury's in Keynsham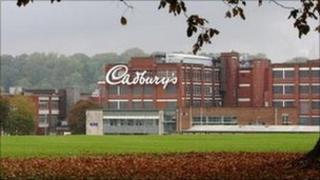 The final bar of chocolate has rolled off the production line at a Cadbury factory at Keynsham near Bristol.
Cadbury was taken over by American firm Kraft in February 2010, which had pledged to keep the Somerdale open.
But days after the takeover was completed the firm controversially announced that it would close the plant and move production to Poland.
Staff were told the news in a series of meetings on Thursday and the last bar was produced later in the afternoon.
A skeleton staff of around 50 people will remain on site to handle maintenance until about March 2011.
Kraft said it would not be officially marking the end of the Somerdale plant, which has been open since 1919.
A spokesman for the firm said that staff were "gathered together" and thanked for their "hard work and dedication over the years" after the last bar was made.
Double Deckers were the last chocolates in production at the site.