Campaign to cut royal wedding street party bureaucracy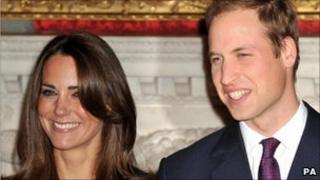 A campaign to make it easier to hold a street party in time for the royal wedding in April has been launched by Bristol-based group Streets Alive.
It said its website had received a large surge in interest in street parties since the royal announcement.
It wants councils to stop charging for traffic orders, remove public liability insurance and stop publicising road closures in the local press.
Prince William is due to marry Kate Middleton on 29 April.
'British tradition'
Chris Gittings, from Streets Alive, said: "We expect millions of residents will want to come together and follow the tradition of closing their road to hold street parties around the royal wedding this year, whether or not they are a royal fan.
"But if there are any costs, residents will not be able to hold them except in some richer areas - it's a question of fairness."
He added: "The government and councils have this chance to decide whether or not they want street parties as a British tradition to be held at all, for the royal wedding, or at other times, for the sake of building community spirit.
"If Bristol can do it, with 120 held last year, the rest of the country can."
During Prime Minister's Questions on Wednesday, David Cameron was asked whether local councils should be encouraged to "to look favourably and flexibly on community groups who wish to have roads closed to hold street parties to celebrate the forthcoming royal wedding".
Mr Cameron replied: "Yes, I think we should certainly make it easier for people to close streets and have street parties."
Streets Alive promotes street parties across the UK and wants to encourage "neighbourliness and community spirit".
For more on this, watch the Politics Show West on BBC1 on Sunday at 1200 BST.