North Somerset waste catch-up has been 'bruising'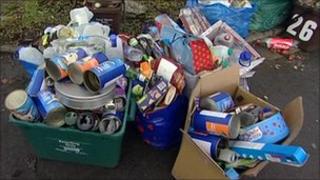 The effort to catch up on missed bin collections in North Somerset has been a "very bruising period", according to a councillor.
Severe weather in December has meant bin crews have struggled to catch up with waste collections.
Black bins have been emptied but recyclable waste such as paper, food and glass have not been picked up.
Carl Francis-Pester, executive member for waste, said he was not happy with how long it had taken to catch up.
Extra crews have been drafted in since the start of the year to try to collect all of the black bins and recycling.
Lost days
Mr Francis-Pester said: "We are as distressed as residents about it because we had intended to continue working over the bank holiday period with no interruption.
"We lost three whole days and three half days which equated to nearly 150 rounds.
"We are pleased that contractors in almost all areas have caught up but it has been a very bruising period.
"We're clearly not happy and I've already made it very clear the extent to which we are dissatisfied with the timescale for resolution," he added.
But Yatton resident Tim Vickery said his bins and recycling had been regularly missed and the new rounds had not worked since they were introduced in July.
"Since August the whole system has fallen apart and when it was put under pressure by the weather it just collapsed," he said.