Jo Yeates's best friend 'desperate for justice'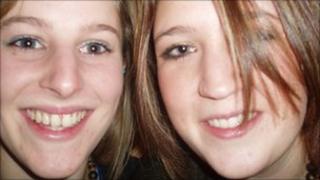 The best friend of murdered Bristol landscape architect Jo Yeates has described plans the pair had been making for Christmas Eve.
Rebecca Scott said Miss Yeates had been trying to persuade her to spend New Year's Eve with her in Edinburgh.
The body of Miss Yeates, 25, was found on Christmas Day, eight days after she was reported missing.
In the video filmed by Avon and Somerset Police Miss Scott said she was "desperate to see justice done".
Miss Yeates was reported missing by her boyfriend Greg Reardon on 19 December after he returned from a weekend away.
Miss Scott, also 25, said she and her friend had been "inseparable" after meeting at college in Winchester, Hampshire, more than 10 years ago.
She said they had both remained close despite going to different universities.
"We were both returning to our parents for Christmas and she was bringing Greg along on Christmas Eve when we went out," said Miss Scott
"She was trying to persuade me to spend New Year in Edinburgh with her.
"I couldn't commit but our plans for Christmas Eve were set. It wasn't unusual not to hear from Jo from then - we were both useless with our phones.
"The next phone call I got was around 4am on 20 December, a missed call from the police.
"I instantly knew something was wrong so I called Jo's phone and Greg answered telling me what had happened."
'No further harm'
PhD student Miss Scott said she had "always hoped" Miss Yeates would still be found alive but said that "deep down" she "couldn't help but think she'd been abducted and some harm had come to her".
Miss Scott added: "On Christmas Day we heard the news we'd all been dreading... when it was reported a body had been found.
"In a way I felt relief at the news. I was gutted too but I knew that she was now not a missing person and no further harm could come of her.
"I remember sending her mum a message saying, 'I'm sorry'. I didn't know what else to say. Everyone was devastated."
Miss Yeates, who grew up in Hampshire, was last seen alive on 17 December.
She spent the evening in the Bristol Ram with colleagues before visiting the Tesco Express to buy a pizza on her way home to the Clifton area of Bristol.
Miss Yeates's snow-covered body was found in Longwood Lane, Failand, by dog walkers on Christmas Day, eight days after she was reported missing.