North Somerset Council leaders defend lobbying trip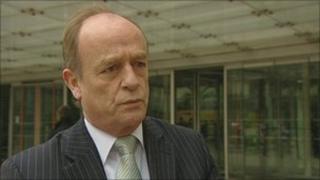 North Somerset Council leaders have defended their trip to London to lobby the government for more money.
The Conservative-run council's leader Nigel Ashton met a local government minister to complain about funding.
The authority has a funding shortfall of £17.4m. Plans include axing 130 jobs as it needs to save £47.2m in the next four years.
Mr Ashton said: "I think it was worthwhile our coming up. We made our point and we will continue to do it."
He saw local government minister Baroness Hanham to talk about their funding settlement.
He was expecting to talk to minister Bob Neil who had had a thorough briefing on the authority's situation, but he had to cancel due to illness.
Mr Ashton said: "I think we've done what we reasonably expected to do... I was never expecting someone to say 'here's some more money' - it was never going to happen that way."
The Department for Communities and Local Government said it had made sure that extra funding was available to protect front-line services.
The council's final budget will be set on 22 February.