Police complain over ITV coverage of Yeates inquiry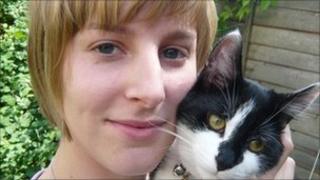 Avon and Somerset Police have complained to broadcast regulator Ofcom about ITV's coverage of the Jo Yeates murder investigation.
A report on ITV's News at Ten on Tuesday included critical comments from a former detective about the handling of its inquiry.
ITV news said it stood by its story.
The force has now overturned a press conference ban on ITV journalists, but warned it will adopt "similar tactics" if the media hampers its investigation.
The broadcaster had said it was "hugely disappointed" at the ban and accused the police of trying to censor it.
Avon and Somerset Police said its ban on ITV journalists attending Wednesday morning's press conference "was made because of the manner and the inaccuracies" of ITV's report.
"But this has now been counterbalanced by a much more accurate and measured piece of journalism at lunchtime," a spokesman said.
"As a result we have decided that ITN (ITV News) are welcome to attend future press conferences, but we will not hesitate to adopt similar tactics again if we feel any media organisation hampers our investigation."
'Naive and irresponsible'
In the programme, ITV reporter Geraint Vincent questioned the actions of Avon and Somerset Police.
A former murder squad detective also claimed that officers had not carried out "certain routine enquiries", such as thorough searches.
Avon and Somerset Police said the report was "unfair, naive and irresponsible".
The editor-in-chief of ITV News, David Mannion, told BBC Radio 4 earlier that his journalists had made numerous attempts to contact Avon and Somerset Police before the programme was aired, but "didn't get a single response".
"We stand by our story, but I also stand by the procedure which the chief constable has now [invoked]," he said.
"If he has a complaint, there's a route to take that complaint… and, if Ofcom decide to uphold that complaint, we will respect its findings."
But he added: "The issue here is, in the interim period, we cannot have a situation where legitimate members of the press are summarily banned from press conferences which we are legitimately entitled to be at."
Miss Yeates was last seen at about 2000 GMT on 17 December after she had been drinking with colleagues in a Bristol pub.
Police say they are confident she did make it home, but are not sure what happened to her after that.
At Wednesday's press conference, Det Ch Insp Phil Jones appealed for help to find a grey sock which was missing from Miss Yeates' body when it was found on Christmas Day.
Miss Yeates' landlord, Chris Jefferies, 65, who was arrested on suspicion of her murder, has been freed on bail.