South Africa honeymoon murder husband arrested in UK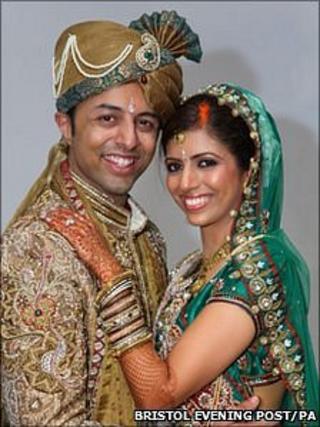 The husband of a woman murdered on her honeymoon has been arrested in the UK at the request of the South African authorities, police said.
Anni Dewani, 28, from Sweden, was shot after being kidnapped while in a taxi with her husband Shrien last month.
On Tuesday, taxi driver Zola Tongo told Western Cape High Court he was offered 15,000 rand (£1,400) by Shrien Dewani, 31, from Bristol, to kill his wife.
Mr Dewani was arrested on suspicion of conspiring to murder his wife.
He is due to appear before the City of Westminster magistrates later, the Metropolitan Police said.
Mr Dewani arrived at the court house in a police van just before 1100 GMT on Wednesday.
'Clear his name'
A statement released on his behalf by lawyer Clare Montgomery QC ahead of the hearing said: "Shrien Dewani had no involvement in the death of his wife Anni.
"He is devastated by her murder and the false allegations that have been made against him and welcomes the chance to clear his name through the courts.
"He will appear before the City of Westminster Magistrates' Court this afternoon and, in the circumstances, has been advised it would not be right for him to make any further comment outside the court."
Scotland Yard said Mr Dewani, from Westbury-on-Trym, had been arrested in the UK following an extradition request by prosecutors in South Africa.
The South African justice department said it would initiate full extradition proceedings when it had received further documentation from prosecutors.
'Plea bargain'
A police spokesperson said Mr Dewani had surrendered himself at a police station in Bristol on Tuesday and was subsequently arrested on suspicion of conspiring to murder his wife.
Mr Dewani's spokesman Max Clifford said: "He gave himself in and is obviously co-operating with the authorities, protesting his innocence."
He said he did not know when his client would go to South Africa.
Taxi driver Tongo was sentenced to 18 years in jail after agreeing a plea bargain.
He was charged with murder, kidnapping, robbery with aggravating circumstances and perverting the course of justice.
Two other people, Xolile Mnguni, 23, and Mziwamadoda Qwabe, 25, face charges of murder, aggravated robbery and kidnapping.
Mrs Dewani was kidnapped while the taxi was travelling through Gugulethu township, near Cape Town on 13 November.
Mr Dewani returned to England after the murder and has always denied any involvement in his wife's death.
The couple are understood to have met when relatives introduced them in England 15 months earlier.
'Normal processes'
Brigadier Sally de Beer, of the South African Police Service, said: "I can confirm that a warrant for the arrest of the husband of the slain tourist, Anni Dewani, was obtained by the South African Police Service after testimony implicating Shrien Dewani in her murder was given in court.
"The warrant of arrest was forwarded to our counterparts in the UK - the foreign assistance division - who acknowledged receipt and advised that they would act on it.
"The normal processes will now be followed, in conjunction with relevant role players, in order to ensure that justice takes its course in this matter."