Cycling city cash spent on upgrades in Bristol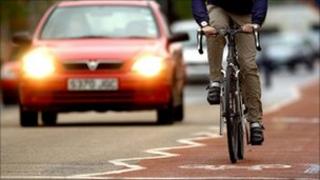 All of the funding awarded to Bristol for it to become the UK's first cycling city has been either allocated or spent, according to the city council.
The aim of the government-backed scheme was to encourage more people to ride their bikes and upgrade infrastructure.
Two thirds of the £11.4m funding was used to either build or improve cycle tracks in Bristol.
Part of the funding was also spent creating 20mph speed zones in some areas of the city.
Councillor Jon Rogers said "more and more people" would need to cycle because of the current economic downturn.
"It's likely that people will need to leave their cars at home and get out on their bikes.
"What we're trying to do is get much more sustainable transport and cycling is one of the ways of doing that."
He said 28 miles of cycle tracks and lanes were upgraded as a result of the extra funding.