Judges back supported accommodation for young offenders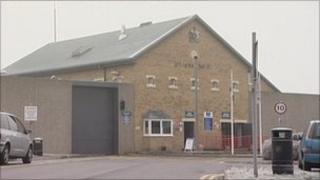 Senior legal professionals, including a High Court judge, have taken part in a charity event to raise money for a unit near Bristol which aims to stop young offenders from returning to crime.
More than 70% of teenagers who leave Ashfield Young Offenders Institution in Pucklechurch are back behind bars within a year, according to the Prison Service.
Many of the boys have nowhere to live when they leave the institution and fall back into crime.
High Court judge Sir John Royce said he is backing the plan to provide supported accommodation for the youngsters.
He said: "The danger is that they go back to their old associates. They get involved in further crimes and in no time at all they are back inside.
"The supported accommodation gives them a feeling of security. A base to start off from. I think it's very very important if we are going to to tackle this problem.
"If we are going to reduce the numbers in the prison system, then this is the sort of enterprise that's very much needed."
Along with Bristol's senior judge Neil Ford QC and magistrates from the city, Sir John was raising money for the Making the Change charity, based in North Somerset, which is about to open the supported accommodation for boys just released from Ashfield.
The judges and magistrates were all "arrested" and taken to Ashfield Young Offenders Institution where they had to phone friends to raise their bail money.
Sir John argues that the re-offending is also hugely costly. It costs £55,000 per year to keep a juvenile at Ashfield.
He said: "A lot of these youngsters should be given every conceivable chance. We should really have the prisons reserved for people who are dangerous and who are a menace to society, rather than full of young people who have a lot to learn and perhaps a lot to give."
Staff at Ashfield said many boys did not want to be released when they came to the end of their sentences and some were not welcomed back by their families.
Ashfield's deputy director Gary Willding said: "We had one incident when a group of young people who had left Ashfield went straight to the car park, broke into staff cars and then waited to be arrested, just to get back within custody."
No girlfriends
When the new accommodation, with fully-qualified staff, opens on the outskirts of Bristol later in December, it will provide eight beds for boys released from Ashfield.
There will be strict rules such as no girlfriends being allowed to visit and the boys must abide by their probation conditions.
The three-year pilot, which is being funded by the Youth Justice Board and Making The Change, has the full support of the Ministry of Justice.
The charity event raised about £1,200 within half an hour of the judges making phone calls to secure their "bail".