Bristol Lib Dem MP Stephen Williams confronts students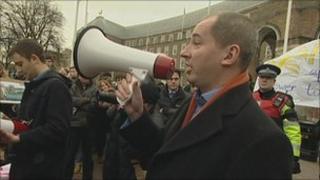 A Lib Dem MP has told students protesting outside his surgery in Bristol that he will not vote for a proposed increase in tuition fees.
About 100 protesters were on College Green during Stephen Williams's surgery when he came out to speak to them.
He said he had not decided whether he would abstain or vote against the coalition government's proposals but he would not vote for an increase in fees.
The vote is expected to take place in Westminster on 9 December.
'Betraying students'
Mr Williams used one of the protester's megaphones so the crowd could hear his answers to their questions.
He said: "First of all, a lot of assumptions have been made about me and my party. I have not actually said to anyone how I am going to vote on Thursday.
"The rise in tuition fees is not something I support. I will not be voting for the government.
"I will either not vote - abstain - or I will vote against the government. I have not decided yet."
Protest organiser Gus Baker, who had earlier accused Mr Williams of planning to vote in favour of the proposals, said: "If he votes against it - fantastic. But if he abstains he'll be breaking his pledge and betraying students."
A spokesman for Avon and Somerset Police said the event caused minimum disruption but one person had been arrested for a minor public order offence.
The march to the Bristol West MP's advice surgery at the Council House on College Green was the third demonstration against increased tuition fees in the city in the past two weeks.
On Tuesday, police made 10 arrests for public order offences during a march which was attended by more than 2,000 students.
During a demonstration on 24 November, six people were arrested for public order offences which included fireworks being thrown at police on horseback.
The House of Commons is expected to vote on 9 December on the coalition government's proposals to raise the tuition fee limit from £3,290 to £6,000 and allow universities, under certain conditions, to charge up to £9,000 for some courses.