Bus companies in Bristol and Somerset face commissioner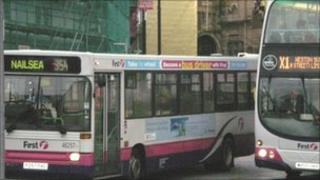 The biggest operators of bus services in Bristol and Somerset have been explaining why some of their services have not been running on time.
First Bristol and First Somerset and Avon were summoned by the Department for Transport commissioner on charges of running unreliable services.
The companies could lose their licence, be fined up to £233,000 or be forced to suspend some of their services.
No-one from the bus operators would comment before the inquiry's findings.
'Tight budgets'
The companies were picked out after spot checks earlier this year on First Bristol and First Somerset and Avon.
Inspectors looked for buses which ran more than a minute early or more than five minutes late.
The inquiry was told that of the 1,456 buses monitored in Bristol between 6 November 2009 and 15 January 2010, 14 (0.96%) buses were more than a minute early; 282 (19.4%) were more than five minutes late and 44 (3.2%) failed to show.
First Bristol said the commissioner's target of having 95% of services on time was "simply not achievable" given Bristol's traffic.
But the commissioner commended the company for eradicating the culture of early running where drivers purposefully speed round their routes ahead of time.
In 2005 First Bristol was fined £100,000 and in 2007 it was fined £50,000.
On those occasions First Bristol argued traffic congestion was a factor.
Both First Bristol and First Somerset and Avon are part of transport operator FirstGroup plc.
A written statement will be issued detailing any punishment within the next 28 days.