Protest over South Gloucestershire nuclear plant scheme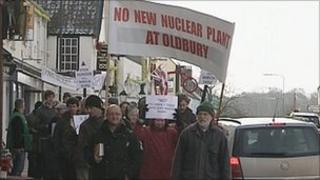 A demonstration has been held against plans for a new nuclear power plant in South Gloucestershire.
The scheme at Oldbury-on-Severn is expected to create up to 5,000 jobs in the area.
But campaign group Shepperdine Against Nuclear Energy (Sane) said it was concerned about safety and damage to the environment.
Horizon Nuclear Power said it was listening to concerns, but it was about "achieving an acceptable balance".
The company hopes to start work at the site, next to the existing reactor, by 2019.
The old reactor is scheduled to close next year.
More than 30 people took part in a march and rally in Thornbury on Saturday.
Reg Illingworth, from Sane, said campaigners would fight the plans with "energy and passion".
He said: "It is a true David versus Goliath battle against two massive, avaricious German energy companies along with support from parts of DECC (Department of Energy and Climate Change) and the government."
Previously, the firm said it was working on flood protection solutions, cooling systems and transport options, which were concerns that had been raised by local residents.