Avon fire service wants to be first with helicopter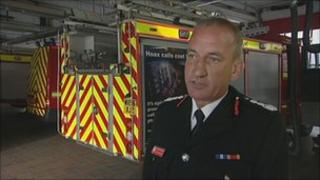 Avon Fire and Rescue Service is aiming to become the first brigade in the country to buy a multimillion-pound helicopter.
Fire chiefs have said it would be quicker and more efficient to fly in specialist teams to road crashes.
But the Fire Brigades Union (FBU) said the plan was "a folly" with some firefighters facing redundancy.
Four fire engines and crews would be cut to pay for the helicopter and its £800,000-a-year running costs.
John Drake, from the FBU, said: "It's our belief that, to pay for this helicopter, specialist rescue appliances will ultimately be taken away from the communities within Avon and the jobs that go with [them] will go.
"At a time of squeeze on the public sector, and on the fire service in particular, this seems a folly."
Avon's chief fire officer Kevin Pearson said: "Clearly, if we were to phase out those road-based vehicles and introduce a helicopter we would need less people.
"So, over time, through natural wastage, we would look to reduce the number of firefighters we need to provide the same level of service, but that's what efficiency is about."
The FBU, which claims it is facing 48 redundancies following the government's Spending Review, is also angry that a 13-strong delegation from the service is going to Munich next month to try out possible aircraft.
Mr Drake said: "I'm sure there are companies and there are places within the UK where similar trials could be conducted."
There will be a trial before any final decision is taken on the helicopter.