Closure of Culverhay School in Bath to go ahead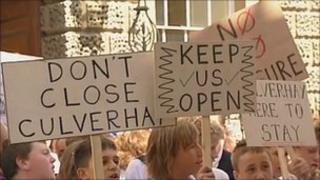 Councillors have voted to close a Bath boys' school with no further admissions to Year 7 from September 2012.
The decision was unanimously backed at a meeting on Thursday despite 74% of respondents in a public consultation saying they were against Culverhay School closing.
Of the 346 respondents, 47% supported the overall plan to close one of the city's seven secondary schools.
The boys' school, which is about half full, had wanted to introduce girls.
Don Foster, Liberal Democrat MP for Bath, said the decision was "outrageous".
"The decision goes against common sense," he said.
"The community will be bitterly disappointed that once again the Tories have shown that they do not listen.
He claimed the decision would leave an "education black hole" in the south west of Bath.
'Wider interest'
One alternative to closing the school was to make Culverhay a co-educational academy in partnership with Bath Spa University with the possibility of an all-through school for ages two to 19.
Another option was to reduce the admission numbers to all Bath secondary schools to 160, except Culverhay and St Mark's, and make Culverhay and Oldfield co-educational.
But these were all rejected by the council's ruling Conservative administration at a cabinet meeting.
Councillor Chris Watt said the money saved by closing Culverhay would allow the authority to reinvest £1.75m in supporting other schools.
"It's never an easy decision to close a school," he said.
"Closing Culverhay is part of our overall strategy for secondary education in the area and means we will be able to reduce 1,500 costly surplus places, raise standards and increase the number of co-educational places available.
"We believe that this strategy is in the wider interest of children and young people from across the area."
All schools were likely to face financial challenges in the future, he added.