Number of new homes for Bath area halved by council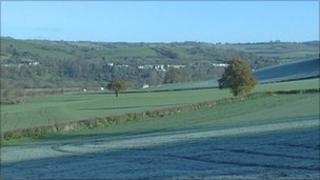 The number of houses that can be built in and around Bath over the next 16 years is to be cut by nearly half by the council.
Conservative-led Bath and North East Somerset Council faced a target of building more than 21,000 homes by 2026 under the last government.
Regional housing targets have now been scrapped and the council's new plan is to build 11,000.
Plans to build on sites in Whitchurch and Newton St Loe have been scrapped.
'Affordable housing'
A council statement said the new figure took into account growth rates and population changes, and responses to a consultation exercise from people who wanted proposed urban extensions scrapped.
Councillor Charles Gerrish, cabinet member for service delivery, said: "We've got a long housing waiting list of about 8,000 people and that is our main priority.
"It's very, very difficult but we are looking at 35% of all housing being affordable housing."
He said: "The unpopular proposed urban extensions into green belt land are to be scrapped and the council will be prioritising development using brownfield land as far as possible and ensuring the provision of appropriate infrastructure.
"However, the homes target we are proposing to adopt is still ambitious and shaped around our aspirations to support at least an extra 8,700 jobs to the area by 2026."
'Unrealistic expectation'
Councillor Gerrish added: "With a sustainable number of new homes it will make it easier for new employers to bring their workforce here and encourage graduates from our universities to remain living and working in the area.
"This must be supported by new infrastructure to enable the sustainable development of key employment sites and new, flexible office space for a broader range of jobs, particularly in central Bath."
Liberal Democrat councillor Roger Symonds said the original figure was "assessed by central government who had an unrealistic expectation of growth levels before a period of recession".
The document that will guide planning up until 2026 will be debated by the council on 2 December.