Straight couple from Bristol test civil partnership law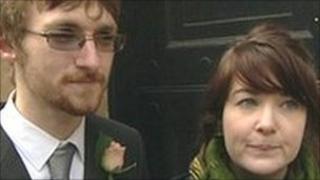 A heterosexual couple from Bristol are to start a legal challenge after their application for a civil partnership was refused.
Ian Goggin, 21, and Kristin Skarsholt, 22, said they wanted the security and stability of a legal commitment without having to get married.
At present only gay couples can apply for civil partnerships.
The pair are among eight couples taking their case to the courts, arguing UK law is discriminatory.
Their bid is part of the Equal Love campaign, which seeks to overturn the twin prohibitions on gay marriages and heterosexual civil partnerships.
"The registrar did offered us a marriage but that's not what we want," Mr Goggin said.
"She was really helpful and extremely nice but she couldn't offer us a civil partnership under [Chapter 1] Section 3 of the Civil Partnerships Act 2004.
'Sexual apartheid'
"They formally rejected us and helpfully gave us a letter of rejection which we can take to our legal adviser and mount a campaign against the law."
The campaign is organised by the gay rights group OutRage! and co-ordinated by human rights campaigner Peter Tatchell.
Mr Tatchell, who was in Bristol for the application, said the bans on same-sex civil marriages and opposite-sex civil partnerships were a form of "sexual apartheid".
"There is one law for straight couples and another law for gay partners. Two wrongs don't make a right.
"Under the Equal Love campaign eight couples will file applications at register offices in London, Northampton, Bristol and Havant.
"Four same-sex couples will apply for civil marriages and four heterosexual couples will apply for civil partnerships.
"Once all the applications have been refused, the eight couples will consult our lawyer and agree a joint legal action."