Long Ashton memorial service for Polish crash victims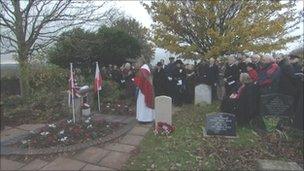 A memorial service has taken place for seven Polish airmen who died in a plane crash near Bristol 66 years ago.
They took off from RAF Blyton in Lincolnshire on a bombing raid mission but crashed in a field in Long Ashton.
All seven died despite efforts by locals to rescue them. Witnesses agreed the crew had managed to steer the plane away from houses, the school and shops.
The service is only held when 21 November falls on a Sunday. The last one was in 2004 and the next is 2021.
The special service took place at All Saints' Church in Long Ashton Parish Church where a plaque has been erected in their memory in the cemetery wall.
David Neal, who witnessed the crash in 1944, said: "I remember standing at a wall and looking over.
"I was only 10 at the time. I looked across the field and what was the remains of the plane were totally engulfed in flames.
"People did try to rescue the men but the plane was evidently on fire before it crashed and they really couldn't get near it to do an effective rescue."
Chez Maryszczak, from the Polish Ex-Servicemen's Association, said: "It's important this kind of tribute will serve the purpose of reminding people who pass by of these brave men.
"They tried to avoid the village and crashed into a field saving maybe a lot of people's lives."
The plaque lists the names of the crew as: J Kisielewicz, JT Malkowski, W Rucinski, JS Radonski, F Kruszczak, S Jurka and S Jaquszcak.
The men are buried in the Polish Air Force Cemetery in Newark-upon-Trent in Nottinghamshire.
Related Internet Links
The BBC is not responsible for the content of external sites.