Suspect arrested over South Africa honeymoon murder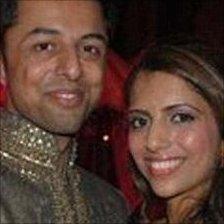 A man has been arrested in connection with the murder of a newlywed on her honeymoon in South Africa.
The 26-year-old, from Khayelitsha, is being questioned by detectives investigating the death of Anni Dewani, Western Cape Police said.
Mrs Dewani, 28, and her husband Shrien, who lived in Bristol, were kidnapped near Cape Town on Saturday.
The gunmen released Mr Dewani, 31, unharmed from a car near Cape Town, but his wife was later found dead.
The couple from Westbury-on-Trym, had been married for two weeks.
Mrs Dewani's family, from Sweden, described her as a "goddess".
A police spokesman said: "A 26-year-old man from Khayelitsha was taken in for questioning this morning in connection with the hijacking of the UK couple that occurred in Gugulethu on Saturday evening.
"A murder case was opened in connection with the death of 28-year-old Anni Dewani whose body was found in Khayelitsha on Sunday.
"Police are working around the clock to ensure that the perpetrators of the crimes are brought to book.
"Several leads are currently being followed in a bid to solve the case."
A tribute from the family of Mrs Dewani read: "The world should know you were a goddess from the start... we will never forget your beautiful smile and big heart.
"The sounds of your bangles are memories all around.
"Now we place them in your casket with no sound.
"Such joyous memories of the time we shared.
"Please, Anni, return to the love we have here."
Mr Dewani is reported to own PSP Healthcare, which operates eight nursing homes in south-west England.
The couple's taxi was hijacked just outside Gugulethu - a township 15km (nine miles) from Cape Town - by two armed men.
The driver was forced out of the vehicle then the two armed suspects took off with the vehicle with the couple inside.
Related Internet Links
The BBC is not responsible for the content of external sites.