Royal Bath and West Showground revamp plans submitted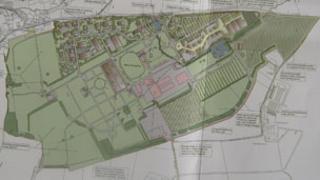 Plans for a £120m regeneration of the Royal Bath and West Showground have been submitted to the local council for consideration.
The proposals include a shopping village, business park, two hotels and an exhibition hall.
There would also be two fields of solar panels to create 5MW of electricity at the grounds in Shepton Mallet.
A date is yet to be set for Mendip District Council to consider giving outline planning permission.
The scheme is expected to create 1,500 local jobs and redevelopment could begin in 2011 if planning permission is granted.
'Not popular'
The 250-acre showground is best known for hosting agricultural shows in the summer, but developers London & Wharfedale want to turn it into a year-round destination.
Richard Froggatt, the company's chairman, said they would be working with the Royal Bath & West of England Society to minimise disruption while work is under way.
He said: "So far as the visitors coming to the ground are concerned, I think if it was ever possible to leap forward five years I honestly believe their reaction would be 'wow, what a place!'.
"Clearly keeping everything trading, keeping everybody happy, is very important, so as we bring forward the proposals we will obviously be working incredibly closely with the society to make sure that any impact is minimised.
"We wouldn't want roadworks on the main road during the first week in June. I would not be the most popular person in the world."
A council spokesman said: "What we have regarding the Bath and West Showground is a masterplan and this really outlines the general concept of what they would like to do with the area."